our Thanksgiving Table
the menu for our annual Friendsgiving celebration!
featuring table setting ideas for your fall + winter gatherings
Cooking and planning for the holidays is our absolute favorite part about them. We've been hosting gatherings together since I lived in the tiniest Brooklyn apartment with my girl Alex in 2012, having friends over for an Easter brunch, with Robert preparing a super delicious meal for us all in a kitchen the size of a postage stamp. Slowly but surely, we've gained a bit more entertaining space, but not much. At our teensy loft in Northern Liberties in 2013 we squeezed 15 people into our not-really-even-a-one-bedroom space for Friendsgiving, carrying on our tradition of making small spaces, and big guest lists work together.

The year we lived at the carriage house, I put a small photo set upstairs in our bedroom while Robert brought up dishes for me to photograph, just as our guests were arriving. I didn't take note of our final count that year, but that place was jam-packed. It honestly felt like our smallest space yet, but also the coziest. Everyone went outside for a fire with hot bourbon ciders at the end of the night, making the whole evening feel Norman Rockwell level festive. Cut to our current home, our small but mighty shoebox that we renovated ourselves, perfect for the two of us and our little one on the way (for now), where we managed to fit 25 guests at our first Friendsgiving here. This of course involved our friends and family occupying every available inch of chairs, benches, couches, and even standing at the unfinished island to eat.

A couple of months back it was me who said to Robert while we were in the car, headed up to Maine -maybe we shouldn't host Friendsgiving this year. I could feel the look of sadness and surprise on his face without even looking at him. I was making my way out of the first trimester, and I was still incredibly sick. The thought of hosting a large group of people at our house, cooking as extensively as we do, with me photographing it for Better Happier at the same time the way I had always done, felt exhausting. We had a few conversations about the whole thing, and decided we just needed to shift the way we execute it, and while it technically created more work for us, I'm so happy we made the change. We decided to plan and shoot the Friendsgiving story ahead of time, before we actually hosted it. An idea that makes total sense, one that we have wanted to do for ages but could never quite find the time for. This year, we finally did it!

I spent the weeks leading up sourcing some beautiful new and vintage tableware, a few favorites being this gorgeous tablecloth from Heather Taylor Home, this pressed metal fern garland from Terrain, and these holiday-perfect bronze bowls. I was so excited that I would actually have the time to create a beautiful story about our Friendsgiving tradition, without rushing around, stressed out about when guests would be arriving. Robert could cook the dishes with much more ease, and Alex and I would be able to work through the shot list at a less-than-chaotic pace. What a dream that change of pace was for all of us. If you've read here for a while, particularly anything related to the holidays, you're likely familiar with Alex by now. We work on the Better Happier Gift Guide together each year, as well as other various projects that she prop styles for me. This past weekend she came down from NYC, amidst an utterly chaotic schedule of her own (Halloween season at Good Housekeeping magazine is no joke), to help style, prop, and execute this beautiful holiday story. I could not have done it without her.

We found out this week that it looks like Robert is probably going to be in Spain for a shoot just before we host our friends, arriving back in the states the night before. Did I mention there is never a dull moment around here? I offered to him again that we could always cancel if it seemed like too much, but he is adamant that we stick to the plan, for now at least. I think that level of dedication goes to show how much fun these holiday meals really are for us. While we're still debating if butternut squash soup for 20 people, plated in this manner is going to happen, this is a big portion of the menu we'll be recreating in the weeks to come. The food we're sharing this time around includes some tweaks on our familiar classics- Robert's favorite mashed potato recipe, the GF cornbread stuffing that I insisted we add fresh (and lightly cooked) cranberries to, and some new flavor combinations that we are so excited about- fennel with orange, Japanese yams with a creamy dressing, butternut squash soup served with goat cheese and a large slice of dark rye toast, acting as an enormous crouton. Most of the recipes here serve 4 or 4-6, and be scaled up according to your guest list. When preparing a turkey, we factor 1-1.5 lbs per person when planning the size ahead of time, but what have we learned from many holidays past? Nobody ever eats as much turkey as you think they're going to.

If it's one dish or five, a color combination you hadn't considered, or just something you want to pin to a holiday mood board, we hope you find some inspiration here.
Happy Holiday Season everyone!
Roast Turkey with Duck Fat, Sage, Coriander + Lemon Dry Brine
Gluten-Free | Serves 6-8 | Ingredients ⤵︎

12-14 lb organic turkey
6 tbs Duck fat
2 onions
1 lemon
2 sprigs rosemary
1 small bunch sage, divided
1/2 cup turkey stock, or water
Sage Coriander Lemon Dry Brine (see recipe below)
Directions
To prepare turkey, remove from packaging, pat dry, and clean cavity.

Rub turkey with dry brine and chill in the refrigerator, uncovered on a baking sheet for at least 6 and up to 12 hours.

Preheat oven to 450°. Remove turkey from refrigerator and let stand for up to 1 hour as it comes to room temperature. Working carefully, separate skin from meat.

Rub duck fat in between meat and skin and stuff with half the sage leaves. Fill cavity with onion, lemon, rosemary and remaining sage leaves.

Tuck wing tips under bird and truss legs together. Roast for 45 minutes.

Reduce heat to 350° and continue roasting for up to 2 hours additionally, basting with stock or cooking liquid, until fully cooked or when an instant read thermometer reads 160° when inserted into the deepest part of the bird.

Let the turkey rest for 20 minutes before carving.

Carve to serve.
Turkey Dry Brine
with additional directions for: lemon powder | sage powder
Ingredients
1/2 cup salt
1/4 cup coconut sugar
2 tbs lemon powder (recipe to follow)
2 tbs sage powder (recipe to follow)
2 tbs coriander
2 tbs whole black peppercorns
1 tbs crushed black pepper

Directions
• In a small bowl, mix all ingredients together until well combined.
*Take note that only 2 tbs of lemon powder, and 2 tbsp of sage powder are required.
• Set aside to use for Roast Turkey.
Lemon Powder
To make lemon powder, clean and peel 6 lemons. Set dehydrator to 140° and arrange lemon peels on trays and dry for 8-12 hours. Transfer dried lemon peels to a spice grinder and grind into a powder.
Sage Powder
To make sage powder, take 1 bunch sage and separate leaves from stems. Set dehydrator to 95° and arrange sage leaves on trays and dry for 8-12 hours. Transfer dried leaves to a spice grinder and grind into a powder.
Roasted Fennel, Pistachio & Orange Salad
gluten-free | serves 4 | Ingredients ⤵︎

4 bulbs fennel
2 oranges
½ cup pistachios, shelled & chopped
2 tbs olive oil + additional for serving
Salt and pepper
Directions
Preheat oven to 400°

Using a sharp knife, remove fronds from fennel bulbs and set aside for serving. Remove base of bulb and slice vertically, keeping slices intact. Transfer to a large bowl and toss with olive oil, season with salt and pepper.

Roast for 12-15 minutes, flip and continue cooking until well browned, about 10 minutes additional. Remove from oven and let cool completely.

Remove skin from oranges and cut into thin slices. In a skillet over medium high heat, toast pistachios until lightly browned and fragrant, about 3 minutes.

To serve, plate orange slices with roasted fennel.

Top with pistachios and fennel fronds, and finish with a splash of olive oil.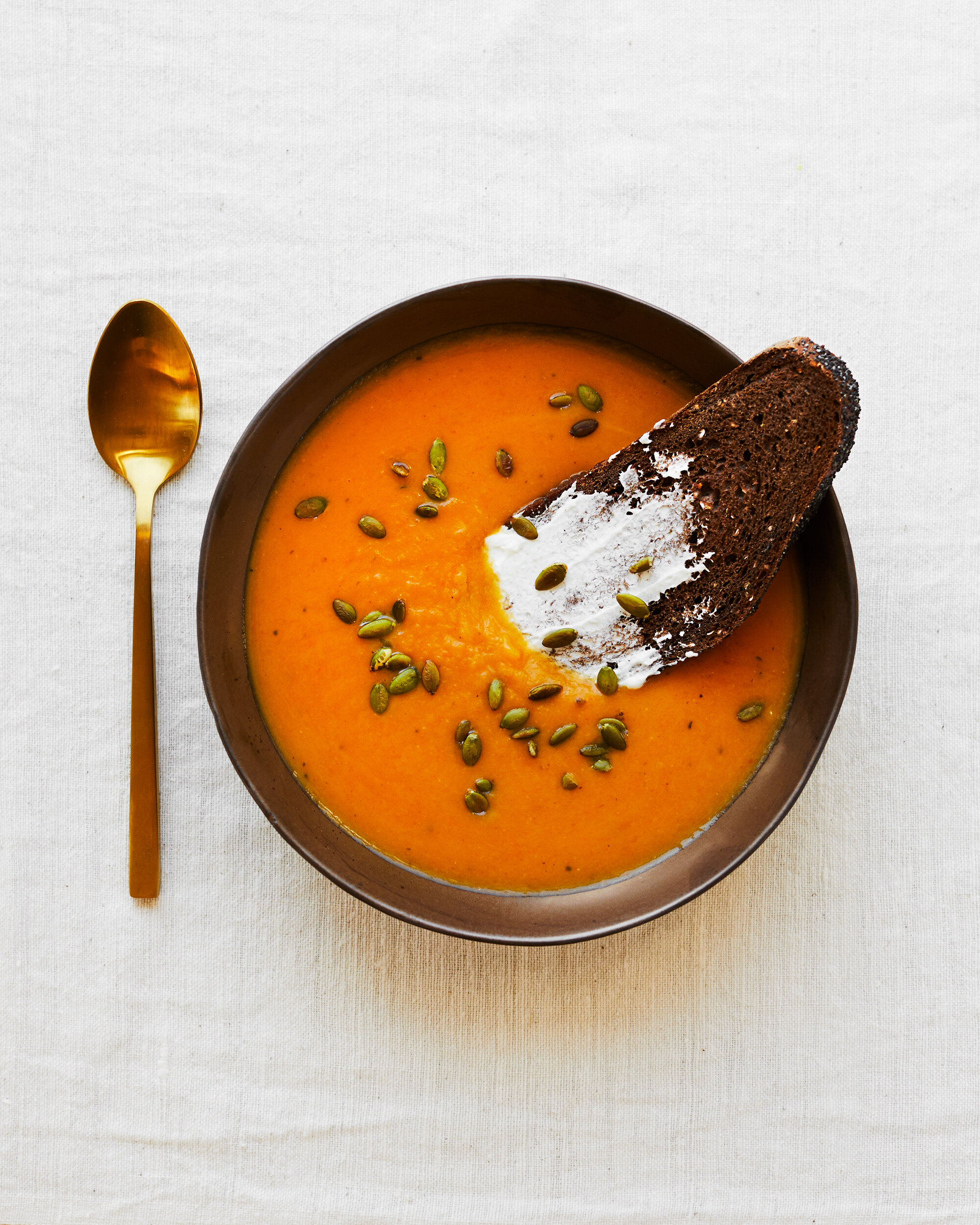 with Dark Rye Crouton & Goat Cheese Spread

for Gluten-Free omit or swap the bread | Serves 4 | Ingredients ⤵︎
2 lbs cleaned & cut butternut squash, cut into 1'' chunks
2 medium carrots, roughly chopped
2 tbs olive oil
2 tbs butter
1 onion, diced
3 cloves garlic, minced
4 cups turkey stock
3 bay leaves
2 sprigs thyme
Sliced dark rye or sourdough bread, or Gluten-Free alternate slice
4 tbs goat cheese spread (I love the one from Vermont Creamery)
2 tbs pumpkin seeds
Salt and pepper
Directions
Preheat oven to 400°

Toss squash and carrot with olive oil and arrange on 2 rimmed baking sheets.

Roast squash and carrots for about 20 minutes, then flip and continue until both are very well browned, about another 20 minutes.

In a large saucepan, cook butter over medium-high heat until beginning to brown. Add onion and garlic, lower heat to medium, and cook, stirring, until soft and lightly golden, about 10 minutes.

Add squash, carrot, stock, thyme sprigs, and bay leaf and return to medium-high heat. Bring to a simmer, then lower heat and simmer until vegetables are very soft, about 10 minutes. Discard thyme sprigs and bay leaf.

Using an immersion blender, blend soup until completely smooth. Season with salt and pepper. Return soup to saucepan and thin, if necessary, with additional stock until desired consistency is reached. Keep warm.

Meanwhile, in a small skillet over medium heat, toast pumpkin seeds until fragrant, about 3 minutes, taking care not to burn. Set aside to cool.

To serve, toast the bread and set aside to cool.

Spread 1 tbs goat cheese onto each piece of bread. Ladle soup into bowls and place toast in with soup. Sprinkle with pumpkin seeds.
Cornbread Stuffing with Fennel, Sausage + Fresh Cranberry
Gluten-Free | Serves 4-6 | Ingredients ⤵︎
1 pan fresh gluten-free cornbread (see recipe below)
1 lb pork sausage, casing removed
1 bulb fennel, roughly chopped
2 stalks celery, chopped
2 carrots, diced
3 shallots, sliced
1 cup fresh cranberries
1 tbs maple syrup
2 eggs
2 cups turkey stock
1 tbs oilve oil
Salt and pepper
Directions
Preheat oven to 300°

Cut cornbread into 3'' chunks and bake on baking sheet until dried and crumbly, about 10 minutes. Transfer dried cornbread to a large bowl and set aside.

Increase oven temperature to 400°. Toss fennel with olive oil and season with salt and pepper. Transfer to a baking sheet and roast until browned, about 15 minutes.

Set aside and decrease oven temperature to 350°

In a small heavy saucepan cook cranberries with maple syrup over moderately high heat, stirring for about 5 minutes, or until some begin to burst. Set aside.

In a large skillet over medium high heat, cook sausage until browned, about 5 minutes. Remove from skillet and set aside.

Using remaining drippings from rendered sausage, cook shallot, celery, and carrots until softened, about 5 minutes. Return sausage, fennel and cranberries to skillet and toss to combine.

In a large bowl, whisk two eggs and add 2 cups turkey stock. Pour in vegetables and sausage, and add cornbread chunks. Working gently to not tear the cornbread, toss everything to combine.

Pour into an oiled casserole dish, cover and bake for 30 minutes.

Remove foil and bake an additional 25 minutes until top is golden brown.

Cool and serve.
Skillet Cornbread (Gluten-free)
gluten-free | yields 1 loaf
1 1/4 cups yellow cornmeal
1 1/4 cups gluten-free all purpose flour (I use Bob's 1-1)
2 tablespoons sugar
1 1/2 teaspoons baking powder
1/2 teaspoon baking soda
1 1/4 teaspoon coarse salt
1 large egg
1 cup fat-free milk
3/4 cup buttermilk
4 tablespoons unsalted butter
1 tablespoon honey
Whisk together cornmeal, GF flour, sugar, baking powder, baking soda and salt.

Mix the egg and milks together until well blended and pour over dry ingredients. Stir to incorporate.

Over medium heat, melt the butter in a 10" cast iron skillet, stirring to coat all sides. Remove from heat and pour in batter.

Drizzle honey over top and bake for 25 minutes, or until the edges are browned and the center is cooked through.
Roasted + Mashed Potatoes
Gluten-Free | Serves 6-8 | Ingredients ⤵︎

5 lbs Butter potatoes
4 tbs butter
1 1/2 cup whole milk
1 bunch sage
2 bunches thyme
2 bay leaves
1 tsp white pepper
Salt and pepper
directions
Preheat oven to 400°

Place potatoes on a rimmed baking sheet or in a large baking dish and cover tightly with foil. Roast until very tender, 80–95 minutes.
Meanwhile, in a small saucepan over low heat, combine warm milk, butter and herbs. Let sit, covered as herbs steep in milk.

When potatoes are done roasting and still warm from the oven, use a paring knife to remove skins.

Cut potatoes into large chunks then pass them through a ricer or food mill fitted with the fine disk into a large pot.

After all potatoes have been processed, discard herbs from the steeped milk mixture.

Add the milk back into the potatoes, working in small additions, stirring to combine.

Season with white pepper, salt and black pepper.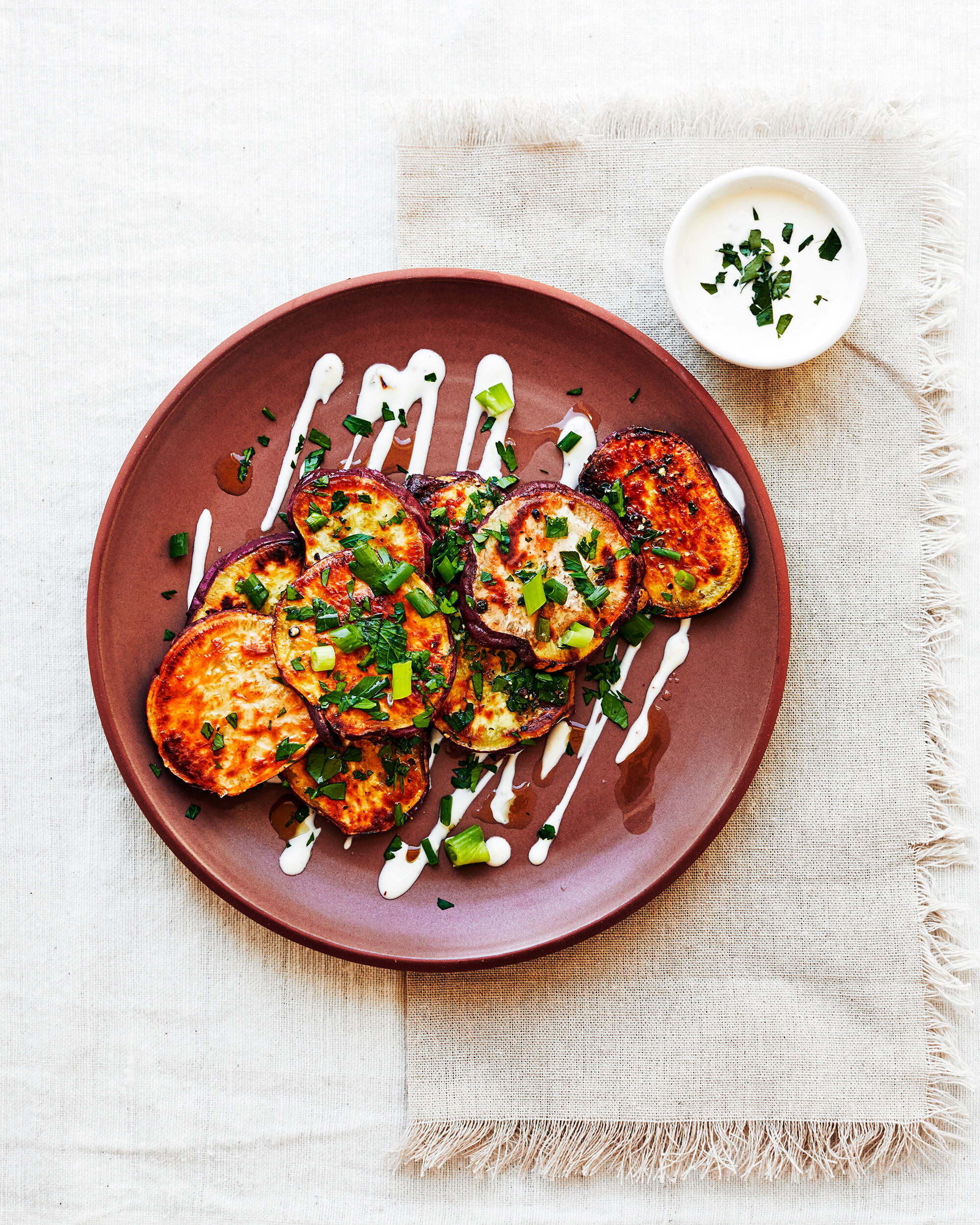 Roasted Japanese Yams with Creamy Lemon Dressing

Gluten-Free | Serves 4 | Ingredients ⤵︎

4 Japanese yams, sliced
4 tbs olive oil
¼ cup parsley, finely chopped
2 scallion, greens finely chopped, whites discarded
2 tsp garlic powder
Creamy Lemon Dressing (see recipe below)
Salt and pepper
directions
Preheat oven to 400°

In a large bowl, toss sliced yams with olive oil, garlic powder and a generous seasoning of salt and pepper.

Place slices on two rimmed baking sheets and roast 15 minutes.

Flip slices and continue roasting until yams are browned and fully cooked, about 10-15 minutes additionally.

To serve, place yams on dish and top with dressing, scallion and parsley.
ingredients
½ cup full fat Greek yogurt
1 lemon, juiced & zested
1 clove garlic, grated
2 tbs olive oil
1 tsp red pepper
Salt and pepper
directions
In a small, nonreactive bowl whisk to combine Greek yogurt, lemon juice & zest, garlic, red pepper and salt and pepper.

Slowly whisk in olive oil to thin mixture.

If consistency is too thick, slowly whisk in cold water until desired consistency is achieved.
Brussels Sprouts Fattoush
for Gluten-Free omit or substitute for the Naan | Serves 4 | Ingredients ⤵︎

1.5 lbs brusels sprouts, shredded
1 purple radish, thinly sliced
3 stalks celery, thinly sliced
1 green apple, thinly sliced
1 loaf naan bread, shredded by hand *For GF- substitute with a Gluten-Free pita or similar consistency bread
2 tbs olive oil
¼ cup Sumac Dressing (see recipe below)
Salt and pepper
directions
In a nonstick skillet, warm olive oil over medium high heat.

When oil is shimmering, add naan bread and season generously with salt and pepper. Fry shredded bread until crispy and oil is absorbed, about 5 minutes.

Set aside on paper towel to cool.

In a large bowl, combine Brussels sprouts, celery, and green apple.

Dress with sumac dressing.

To serve, place radish in serving dish and top with dressed greens.

Sprinkle friend naan to top.
ingredients
1 tsp sumac
1 tsp cumin
1 clove garlic, grated
1 lemon, juiced
1 tbs cider vinegar
¼ cup olive oil
Salt and pepper
directions
In a small, nonreactive bowl, combine all ingredients except olive oil.

Slowly whisk olive oil into mix to emulsify into a dressing.